In the fast paced, technology driven world that most of us live in, sometimes we forget to live in the present while looking towards the future. Most of us plan to make money, work hard, and forget about the things around us that make every single day worth living. At eSchedule, we do our part to simplify the world around you as a manager, employee, or executive and to make sure that your free time is yours to spend in the best way possible, the way you want it to be spent.
Our scheduling wizards offer time off management, show you availabilities, and push for ease of use for everyone involved. Once an employee submits their time-off request it is automatically forwarded to that person's manager for approval. The employee doing the requesting is notified immediately via email if their request has been granted, which means that you do not need to buy plane tickets and then tell your boss you already made plans (or better yet, hear this excuse from one of your employees). Our software also automatically keeps track of all approved and declined requests.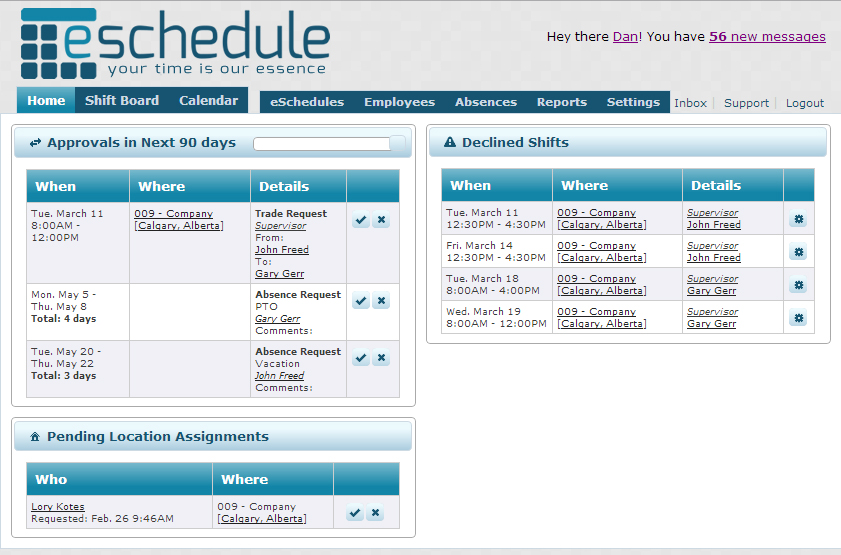 Not only does eSchedule set up automatic communication functions, we keep your everyone notified of published schedules, shift changes, open shifts, and time off approvals. Managers benefit from immediate notice about picked up, open shifts, declined shifts, and all approval requests right from their "Home Tab". Whereas the "Shifts Tab" displays upcoming schedule information and allows employees to acknowledge their shifts, meaning you won't hear "didn't know" excuses. And of course, all users can sync their schedules to calendar clients such as Microsoft Office 2007, Apple iCal and Google Calendar and so forth. Remember, life is short, and is meant to be enjoyed. So be sure to schedule time for life.