Introduction
As a department or store manager at a retail location that employs a high volume of part-time and seasonal staff, such as a Garden Center or Home Improvement & Hardware store, you spend a good part of your day managing your employees requests. The reality of this business is that something always comes up and all you can do is try to minimize the time it takes to resolve.
Background
Take a minute to remember the last time an employee called in sick or missed a shift. You probably didn't receive much notice and had to quickly find someone else that was available. From the time your employee called in sick, to the time your replacement showed up, how long did you spend resolving this?
The good news is there's probably a process in place to find a replacement employee, however it isn't necessarily the most efficient. One Home Hardware store manager, Paul, hit the nail on the head when he said: "It's (absenteeism) to be expected, we just know we're going to have to deal with it. I think anyone in the retail business feels that way".
The effects of absenteeism are especially apparent during peak season, when a majority of your staff are part-time and student employees. They may feel less compelled to show-up for every shift and tend to have very specific availability around their other obligations. According to research conducted by Mercer, "on average, supervisors spend 2.8 hours per week on absence issues". Further, they found that the indirect cost of incidental absences (sick days, emergencies, absenteeism) is 3.8% of payroll, as seen in Figure 1.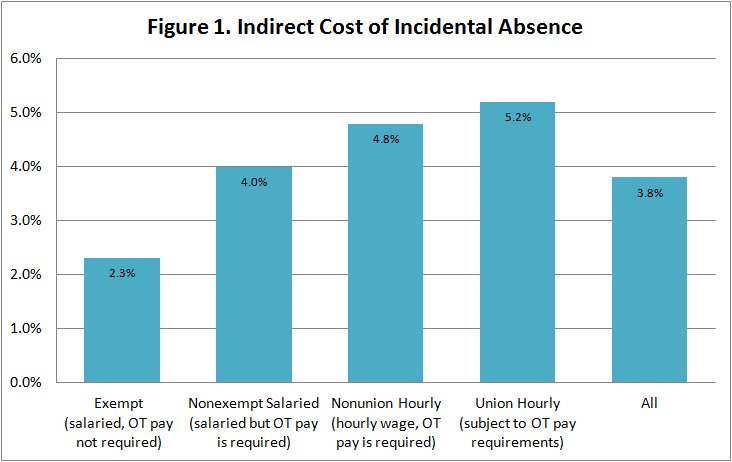 Mercer (2010)
Currently Implemented Alternatives
Pickup the phone
Chances are you will need to leave the sales floor (not ideal on a Saturday in the spring season) in order to check your printed schedule, employee contact list and any information on availability/absences. Pick up the phone and start dialing. Then comes the big ask: "Will you please come in to work right away? Yes I know it's your weekend off but we need you!" That's always a tough sell. Luck would have it that the one employee that can come in already worked 40 hours this week so will need to be paid overtime for this shift, a cost store owners aren't going to be happy with.
Borrow an employee
Alternatively, a lot of retail stores will borrow the sales associate they require from another department. These employees aren't always cross-trained and therefore don't have the knowledge necessary to perform at the same level as the sick employee. In this case, you will need to spend your valuable time giving them a brief overview of your department and answering questions they have throughout the day.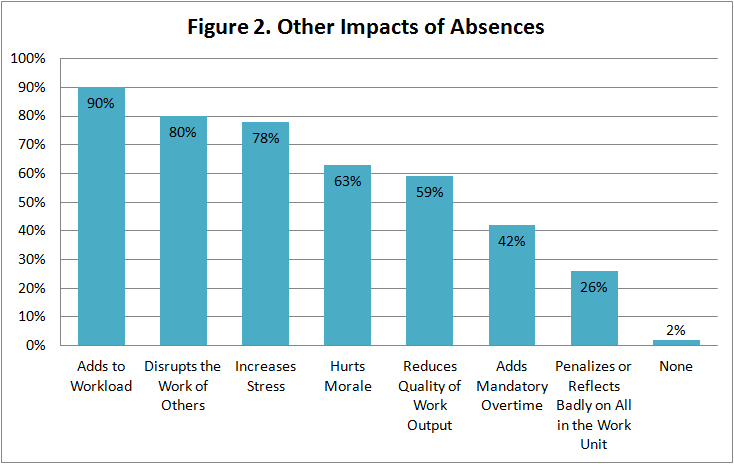 Correspondents were asked to identify other impacts of absence. Mercer (2010)
Work short staffed
There's always the option to not replace the employee at all, which will save you the trouble of finding a replacement, but can instead negatively impact your entire department. Projects get delayed, meetings are postponed and certain processes are interrupted until the appropriate workforce is there to complete them. According to Mercer research, other impacts of absence include: adding to the workload, disrupting the work of others, increase in stress, hurting morale and reduction in quality of work output (as seen in Figure 2).
Solution and Recommendations
Online employee scheduling software offers a number of features specifically designed to address the issue of finding a replacement employee for one that is absent. Once implemented, you will no longer have to leave the sales floor and spend the rest of your day dealing with the ripple effects a missed shift can have on your department.
These three steps can be taken in an online scheduling application to reduce how long you spend replacing absent employees and the costs associated with doing so.
Use Open Shifts
The employee scheduling software that you choose to implement should give you the ability to release "open shifts". An open shift is a shift that has both a position and time slot assigned, but no employee. You should also ensure that creating an open shift will send an alert to available and qualified employees via email and SMS text messaging.
As a manager, all you need to do is log-in to your scheduling app from your mobile device (you don't even have to leave the sales floor) and select the shift that you no longer have an employee for. With a click you can change it to an open shift and have it automatically notify your workforce that there is a shift up for grabs! This single feature can drastically improve your process and save you time that was spent on finding a replacement.
Manage multiple department schedules all from one place
Many retail centers have several departments, and the manager in each tends to handle scheduling a little differently (Excel®, pen & paper, software). As a result, when a manager goes to borrow an employee from another department, it isn't always apparent who's available and what position/skills they have. Consolidating all department schedules into one application (where you can still view each department separately) makes borrowing employees for shift coverage much more efficient.
If your current process is to replace your absent sales associate with a staff member from another department for example, you will now be able to log-in to the schedule and see which manager has extra staff. Further, you can determine if that employee is actually qualified to work as a sales associate or if they're only trained as a retail cashier. This ensures you find the most qualified candidate to perform your missing employee's job, and helps reduce the negative impacts of absences observed in Figure 2.
Eliminate conflicts with clear absence and availability tracking
Part-time and seasonal employees will usually have specific availability and absence requests that work around their other obligations. If you don't have this information properly documented, not only will your schedule have conflicts (resulting in absenteeism) but when you try to call your other employees to take the shift, you'll waste time on ones that aren't even available.
Online scheduling software gives your workforce their own account to log-in to. Here they can set the times they're available to work and request absences… rather than handing you a sheet of paper that is just going to get misplaced. Now with a glance at the online schedule, it is immediately clear which employees are actually available to cover that missed shift and they can be notified immediately.
Conclusion
By implementing an online employee scheduling solution, garden centers, home improvement & hardware stores and other businesses in the retail industry can reduce the costs associated with absenteeism. Instead of struggling to find a replacement employee for a missed shift, store or department managers will be able to instantly send a request to all available staff. Using open shifts, consolidating department schedules into one application that everyone can access and ensuring absences are requested in it, managers can optimize their employee replacement process.